How to develop a reusable and flat-pack Pallet Shipper?
Sofrigam is currently developing a new concept of Pallet Shipper that is both removable and reusable. Vincent Bailleul, an R&D engineer will talk about this study project during our participation in the DHL Life-Sciences and Healthcare conference from 17 to 19 June in Miami, where Sofrigam is presenting its flat-pack Pallet Shipper.
Sofrigam is a pioneering company in the design of Pallet Shippers for the cold chain transportation of pharmaceutical products. Building on its experience of more than 30 years in the development and manufacturing of Pallet Shippers, Sofrigam is currently studying a new concept of reusable, removable Quarter PAG/PMC insulated containers!
A major challenge for developing an insulated packaging solution that is:
easy to assemble and disassemble to facilitate loading,
light to reduce logistical costs,
optimised to transport large volumes of products,
robust for use on multiple round trips around the world,
high performance to ensure the maintenance of the cold chain throughout successive shipments.

Here is a behind the scenes interview on Sofrigam R&D with Vincent Bailleul, Innovation and project manager.
What was the basis for this project?
Everything began with the age-old question that arises when addressing the topic of Reverse Logistics: how many times can our Pallet Shippers be used?
This question was all the more pressing as we had just developed our range of flat-pack Pallet Shippers. Easy to assemble and disassemble, this is essentially the ideal configuration for a reusable Pallet Shipper.
However, it was impossible for us to assess how many times a Pallet Shipper can be used. At Sofrigam, rather than use a crystal ball we prefer to test and measure.
Therefore, the idea of a pilot phase readily emerged. We have a production site on each side of the Atlantic. So we shipped Pallet Shippers from one site to the other and each time observed the damage sustained by the container.
The Pallet Shipper is an insulated packaging solution dedicated to transporting thousands of pharmaceutical products around the world. The concept of being both removable and reusable seems a little contradictory. How do you deal with this challenge?
Yes, a little. But above all, we have not fallen into the trap of wanting to make a packaging solution which can be reused a large number of times. Such an objective would have required us to make material and assembly choices that would make the solution very heavy.
We wanted to retain the advantages of our flat-pack Pallet Shipper, particularly the lightness because this criterion is of paramount importance to our clients; given that the mass has a direct impact on the cost of air freight and therefore on the overall cost of their supply chain.
This is why sometimes, ironically, we have not looked for more resistant materials. For the corners, for example, we have not changed the materials to make them more resistant. Our preference was to make them easy to replace.
The outcome is very satisfactory because the reusable solution is still light and does not represent a huge cost compared with the Initial Pallet Shipper.
Like all of your insulated packaging solutions, the Pallet Shipper is tested in the thermal testing laboratory in accordance with specific standards. How do you ensure that successive reuse does not alter the controlled temperature within the packaging solution?
This question was directed to Ater Métrologie thermal centre of excellence. For this the laboratory simultaneously tested a used Pallet Shipper (i.e. one that had been used 4 times) and the same brand new Pallet Shipper. The result shows that the temperature is actually a little higher in the used Pallet Shipper. The shape of the curve is exactly the same but has shifted upwards. The difference is between 0.5 and 1.0°C, however the temperature of the products is perfectly maintained between +2 and +8°C.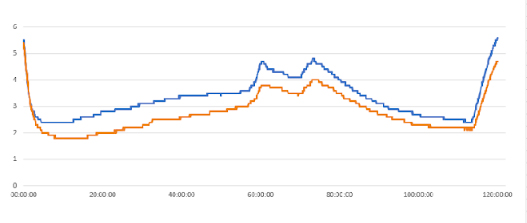 Temperature readings of a Pallet Shipper reused over 4 journeys (blue curve) compared with a brand new Pallet Shipper (orange curve).
This product is currently under development. Nevertheless you can find out more about our flat-pack Pallet Shipper at the DHL Global Life Sciences and Healthcare Conference 2019 from 17 to 19 June in Miami, Florida. The container will be on display on our Sofrigam stand, N°2. For more information about the event: https://www.event-dhl.com/ehome/387997?&t=3827d7a8fb175cef74fb03a3344bbd0