Medicinal products in protective packaging
Growth hormones, insulin, anti-cancer drugs, many types of vaccines, … all these medicinal products are heat-sensitive and, in order to be effective, they must be stored at controlled temperatures.
The consequences of unsatisfactory cold storage conditions are well known: damage, denaturation of the molecules, splitting of the packaging in the event of frost.
Subjecting them to temperatures below +2 °C or above +8 °C is harmful for the product and could even harm the patient.
This is all the more likely since these medicinal products are high-value treatments and this can have consequences for the health of the patient as well as for the financial well-being of the manufacturer, the retail pharmacy or the hospital that administers them.
The use of heat-sensitive treatments continues to increase
The proportion of heat-sensitive medicinal products in the pharmaceutical market is steadily growing and is likely to progress further for a number of reasons:
The rise in R&D investment for innovative molecules based on biotechnologies, in order to develop speciality treatments to combat cancer or even diabetes, in response to increasing global demand,

The increase in the number of takeovers/acquisitions of pharmaceutical laboratories: in 2014, 40 billion euros were invested in acquisitions by the ten giant pharmaceutical companies,

The entry of 40 to 60% of patents into the public domain,

The growth of the global market for generic drugs, with more and more of the targeted products originating from biotechnologies.
Insulated packaging solutions for transporting heat-sensitive medicinal products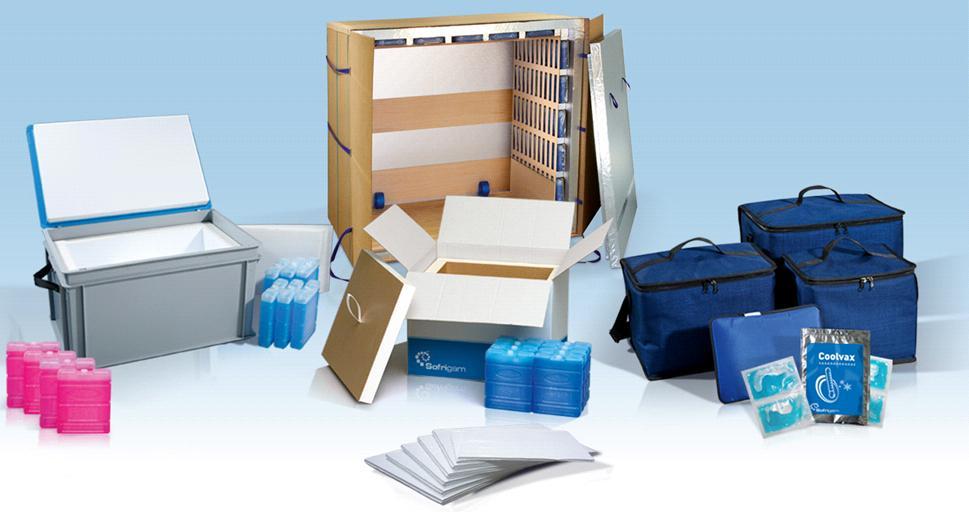 Insulated packaging solutions for pharmaceutical products for transporting medicinal products via the cold chain
On the one hand, pharmaceutical companies must be equipped with reliable and efficient insulated containers, enabling them to dispatch large quantities of medicinal products across the world. Insulated pallet boxes are logistical tools designed to enable pharmaceutical laboratories to optimise the transport of medicinal products while fulfilling the requirements of safety, productivity and temperature control.
The medicinal products are dispatched to retail pharmacies, hospitals or wholesalers. In such cases, the laboratory dispatches the heat-sensitive medicinal products in cold chain shipping boxes, which maintain the products throughout the cold chain until they are stored in a refrigerated cabinet.
On the other hand, it is important to equip the final links in the chain: retail pharmacies, hospital staff and patients, responsible for safeguarding the products until they are administered to the patient. To achieve this, cooler bags and insulated packaging solutions (insulated shoulder bags, insulated pouches) are suitable for various uses.

Tested and pre-qualified temperature-controlled packaging solutions are essential in order to safeguard the logistics cycle of the medicinal product, from its initial formulation until it is administered to the patient.