Which is the best packaging solution for dispatching small quantities of heat-sensitive medicines over long distances?
The challenge is twofold: to transport very small quantities of a high-value pharmaceutical or biotechnological product – and under significant logistical and climatic constraints. As a manufacturer in the pharmaceuticals or chemicals industries, is this your prime concern? Cyryl Polkotycki, Design Engineer, has some valuable information for you.
The ideal insulated box for your requirements
VIP cold chain thermal packaging are designed for transporting small quantities of products with logistical profiles exceeding 5 days and under frequently harsh climatic constraints. The technology employed is an ingenious combination of sophisticated materials (polyurethane and VIP, the best available on the market in terms of intrinsic thermal conductivity) and the necessary volume of cold source in a precisely-dimensioned container.
At present, we are offering for sale two types of packaging solution, one version for the temperature range +2 to +8 °C and one for +15 to +25 °C, with payloads from 3 to 10 litres, depending on the configuration. They will enable you to transport small quantities of products over long distances in complete safety. These solutions also serve to limit your logistical and preparation costs. The containers can be prepared quickly and easily: the number of eutectic gel packs is kept to an absolute minimum. The frozen eutectic plates do not require any stabilisation beforehand. The overall outer dimensions are compact, thanks to the degree of insulation provided by the two types of super-insulating materials.
The 'Box-in-a-box' concept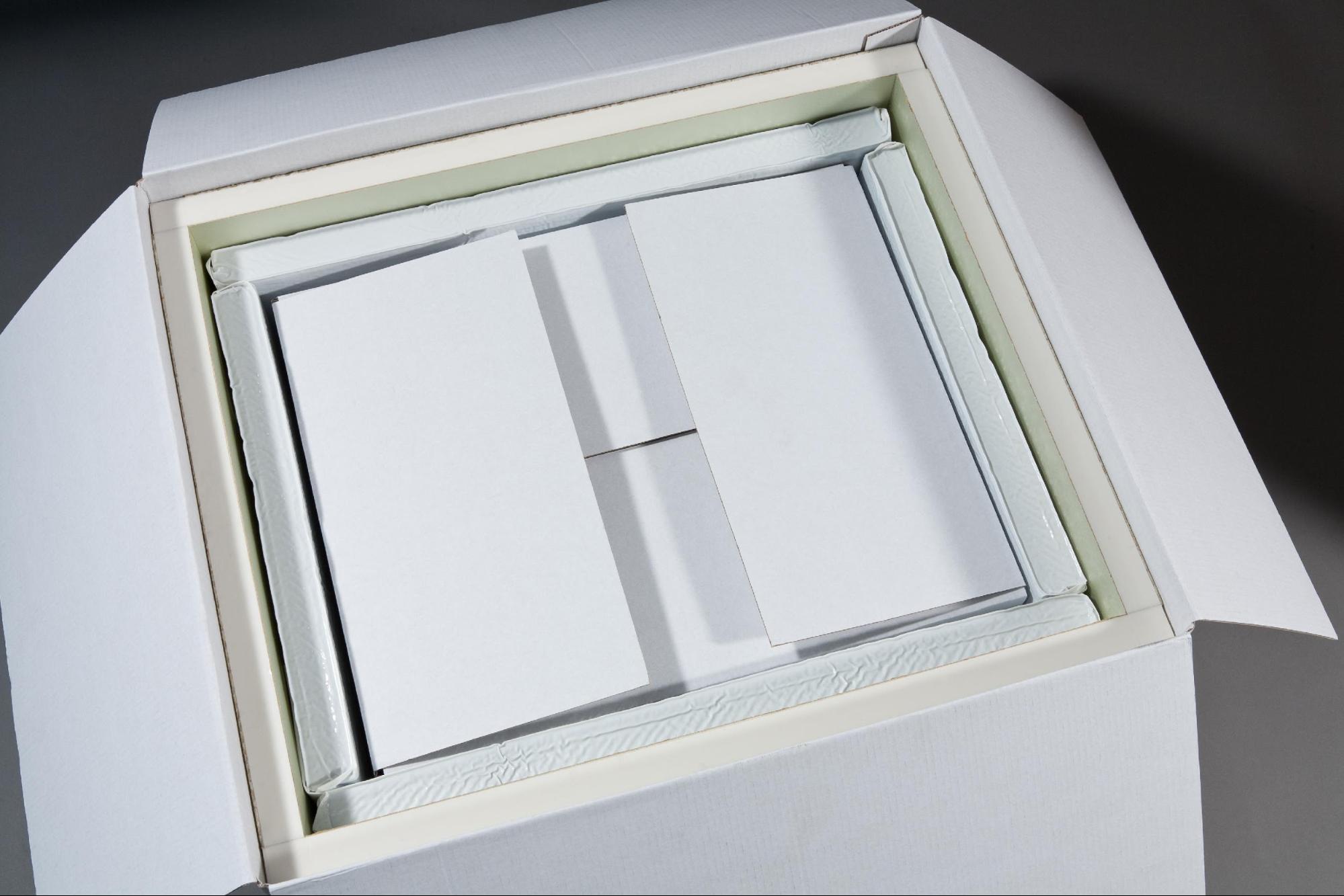 Insulated box with two types of insulating material: vacuum insulated panels (VIP) and polyurethane
The combination of two materials in a 'box-in-a-box' format ensures excellent performance (duration, temperature, payload). The VIP box fits perfectly inside the polyurethane box. An internal cardboard liner is also inserted into the VIP box: in this way, the VIP material is protected from the inside (by the cardboard) and from the outside (by the polyurethane).

The cold source is placed inside the cardboard liner, at the same time as the product(s) is(are) loaded, depending on the various scenarios.
Storage at +2 to +8 °C
Separators made from VIP or corrugated cardboard are used to separate the frozen eutectic gel plates (-20 °C) from the chilled eutectic plates (+5 °C).

Based on outdoor summertime temperatures, the test results are as follows: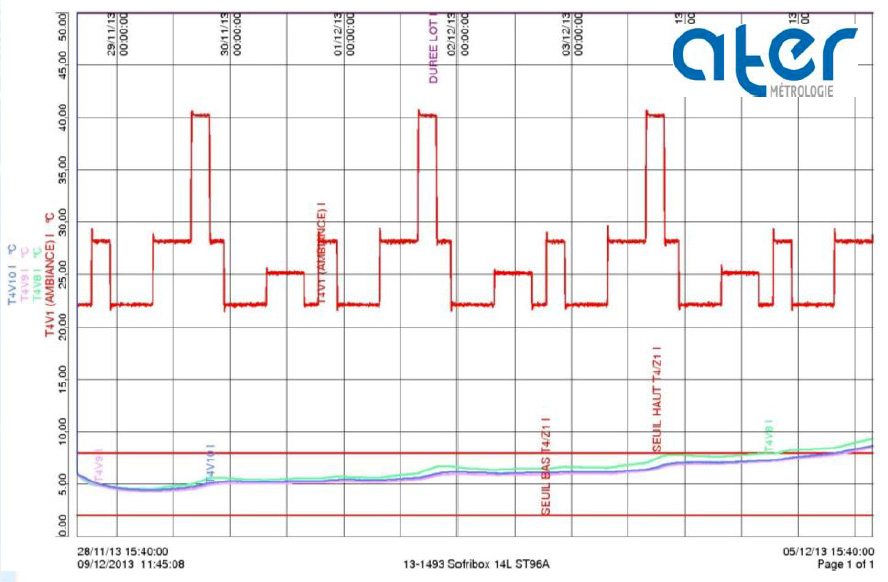 Sofribox VIP 14/20/25 – profile from AFNOR Standard S99-700: STD-96-A-148 hrs*
In winter, heat-sensitive medicines can be stored for significantly longer periods under similar conditions: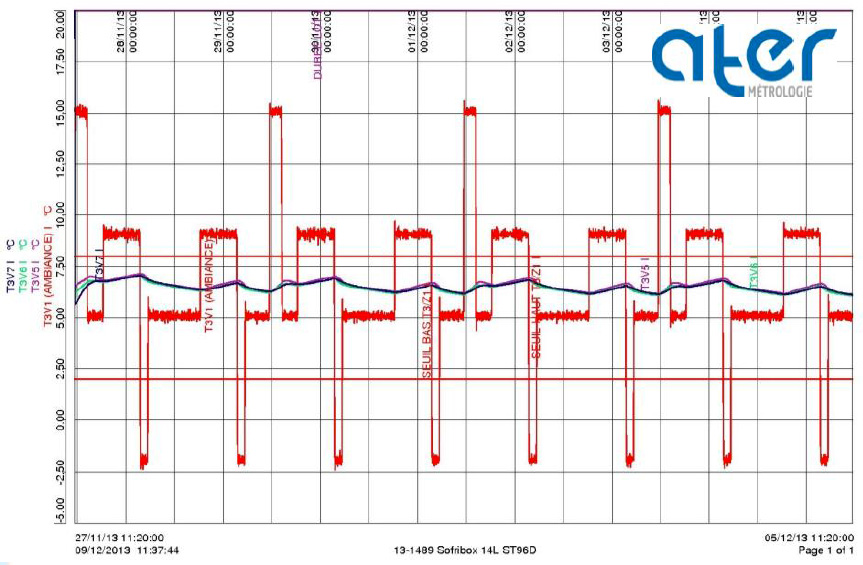 Sofribox VIP 14/20/25 – profile from AFNOR Standard S99-700: STD-96-D-192 hrs*
Storage at +15 to +25 °C
A gel which changes phase at +21 °C guarantees high performance and does not require any particular physical separation: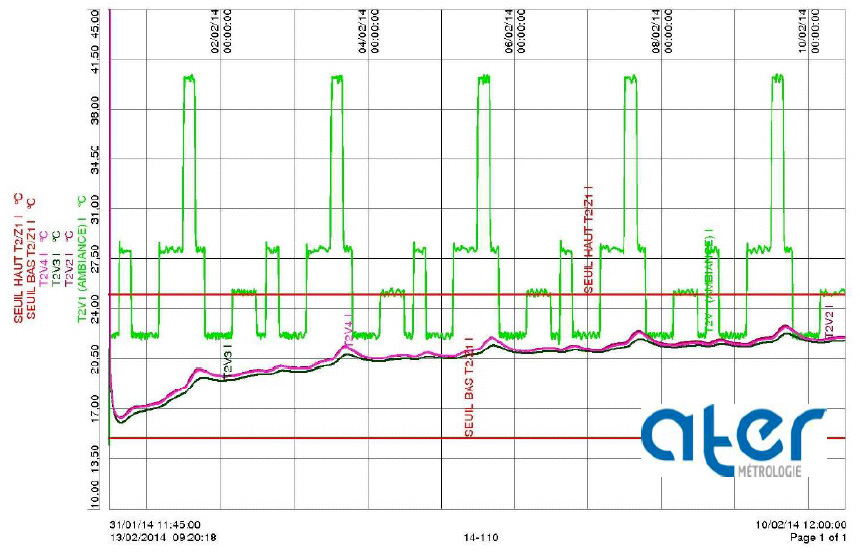 Sofribox VIP 14/20/25 - profile from AFNOR Standard S99-700: STD-96-A-240 hrs*
Here are the results of the tests conducted with negative outside temperatures: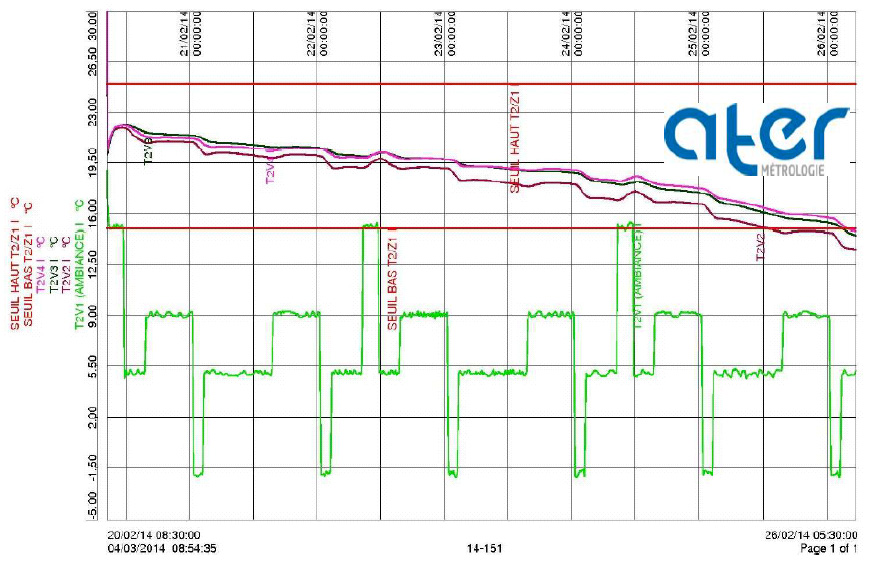 Sofribox VIP 14/20/25 - profile from AFNOR Standard S99-700: STD-96-D-124 hrs*
Do not hesitate to get in touch with our Sales or Technical Departments.
*Thermal tests conducted by our business partner, the Ater Métrologie laboratory, which specialises in climatic tests.