Guaranteeing the effectiveness of vaccines
Poor management of the cold chain regularly leads to significant losses of medicines
Since the first doses were put into circulation at the end of December 2020, the Covid-19 vaccines, which are so valuable, pose two major challenges in terms of transport and distribution.
Firstly, extreme temperatures: while only Pfizer's vaccine requires constant freezing at -70°C with dry ice, all others must still be stored at -20°C.
On the other hand, even if the cold chain and logistics players had invested heavily in preparation for this critical moment - distributing current and future vaccines, while continuing to meet the demand for transporting food, chemicals and other pharmaceuticals - the global cold chain infrastructure is struggling to keep pace.
"The volume is unprecedented. To achieve global herd immunity, the world needs at least 15 billion doses of vaccines. That would be in an ideal world without any vaccines wasted at all. It's absolutely crucial to minimize the amount of waste", says Erik Lehikoinen, Global SVP of Sales at Logmore. Lehikoinen has a background in container logistics.
The logistics required for these highly heat-sensitive vaccines are particularly demanding and have led to inevitable losses - as is often the case with this type of temperature-controlled pharmaceutical product.
Authorities in countries ranging from India to the United States report that a surprisingly high number of vaccines have been tampered with due to poor cold chain management.
The alliance of two experts to guarantee respect for the cold chain and the effectiveness of vaccines

It is in response to this problem that Sofrigam and Logmore are now joining forces to offer the market a new range of intelligent and qualified temperature-controlled packaging for the transport of Covid-19 vaccines.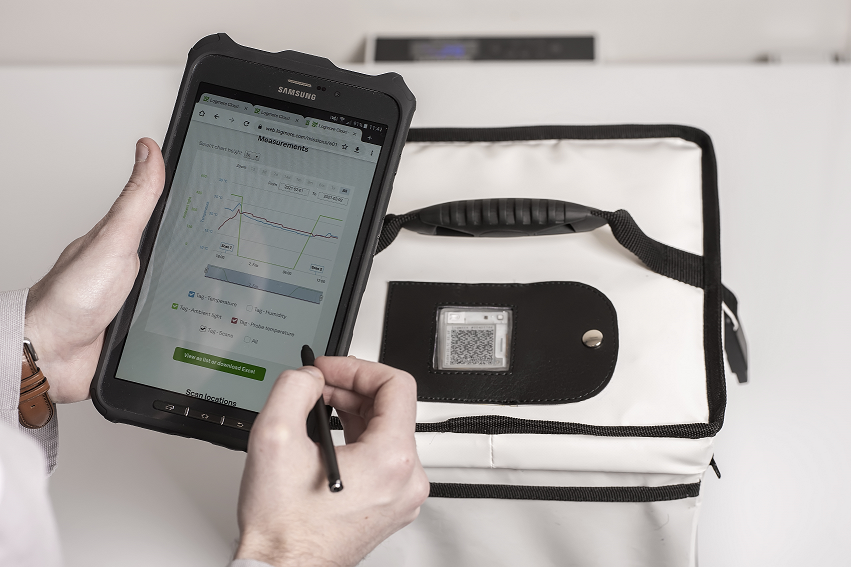 The Logmore monitoring technology integrated into the Sofrigam insulated shipping packaging solution enables the temperature of the payload to be analysed without exposing the inside of the packaging to the outside environment. This is ideal for vaccine deliveries.
In concrete terms, this new range of Sofrigam qualified packaging integrates Logmore data loggers.
Composed of calibrated and certified sensors, these enable the temperature, humidity, shocks and light to be measured, both inside and outside the insulated box.
Thanks to a dynamic code QR easily accessible from the outside of the packaging, anyone with a smartphone or barcode reader can download, view and monitor the collected data from the Logmore Web cloud service in seconds.
"Partnering with Logmore is the logical continuation of our promise to our customers and the end user. Our mission is to offer stakeholders within the medical and health sector peace of mind regarding vaccine efficacy while meeting global demands for Covid-19 vaccination initiatives." says Laurence Labranque, VP at Sofrigam. Labranque has extensive experience in the last-mile cold chain needs.
Contact information:
More informations:
About SOFRIGAM: Sofrigam develops qualified pharmaceutical transport solutions, building solutions to minimize medical waste.

About LOGMORE: Logmore is a logistics data company providing condition and quality monitoring solutions fit for all supply chains.