Towards a sustainable and responsible cold chain logistics
Logistics: the leading greenhouse gas-emitting sector
According to the French General Commission for Sustainable Development, the freight transport sector is the largest greenhouse gas emitting sector in France, accounting for nearly 30% of emissions. The circulation of goods and road transport accounts for 82% of domestic freight traffic, and this figure is growing steadily. Each year, commercial vehicles are responsible for more than 30% of polluting emissions.
Pollution linked to freight logistics, whether it be CO2, particulate emissions, soil pollution or nuisances such as noise or traffic jams, costs Europe more than 700 billion euros every year. Global warming reminds us that greenhouse gas emissions must be brought under control as soon as possible.
Temperature-controlled logistics: a thriving sector
Every year in France, 100 million tons of products are transported in refrigerated vehicles. This represents 10% of the road traffic in France, with 145,000 million km covered per year.
The cold chain logistics market covers a wide range of products:
- Fresh or frozen food products,
- Non-food products: pharmaceuticals, chemicals and cosmetics.
Temperature-controlled transport is booming: it represented 6.8 billion euros in 2018 and will reach 10 billion euros in 2025.
It is therefore crucial to rethink the method of goods transportation in urban areas and to adopt an eco-responsible approach for the logistics sector, especially for temperature-controlled urban logistics.
Rethinking urban cold chain delivery
What if refrigerated delivery in urban centres was non-polluting and totally silent? What if fresh produce was delivered by alternative means of transport? What if bicycles, scooters and small electric vehicles gradually replaced refrigerated trucks in the urban landscape?
With the autonomous, silent and decarbonised cold production technology of Coldway Inside, Sofrigam offers a unified refrigerated transport solution, which makes it possible to deliver via an ecological cold chain in urban centres by means of non-polluting transport.
With Sofrigam, the active refrigeration of the 21st century is on the move and is resolutely sustainable!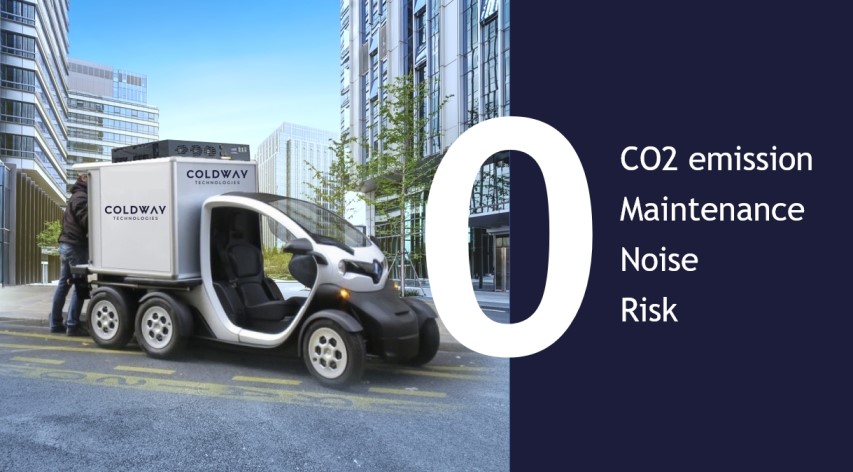 Innovative refrigeration technology that is 100% autonomous and environmentally friendly

Social responsibility and respect for the environment has always been part of Sofrigam's DNA. Today more than ever, it is committed to ecological and energy transition with the innovative Coldway Inside refrigeration technology.
Autonomous, silent and sustainable, the Coldway Inside refrigeration system offers refrigeration that is 100% ecological and 100% mobile, breaking with traditional compressor and battery refrigeration systems. Adaptable to any type of means of transport (bicycle, tricycle, scooter or vehicle), it operates autonomously without being connected to the vehicle battery.
The system makes it possible to maintain a highly accurate temperature, thereby complying with all regulatory requirements regarding noise and air pollution. It offers reduced maintenance and operating costs, making it the only perfectly ecological nomadic refrigeration system. It is revolutionising refrigeration in the 21st century.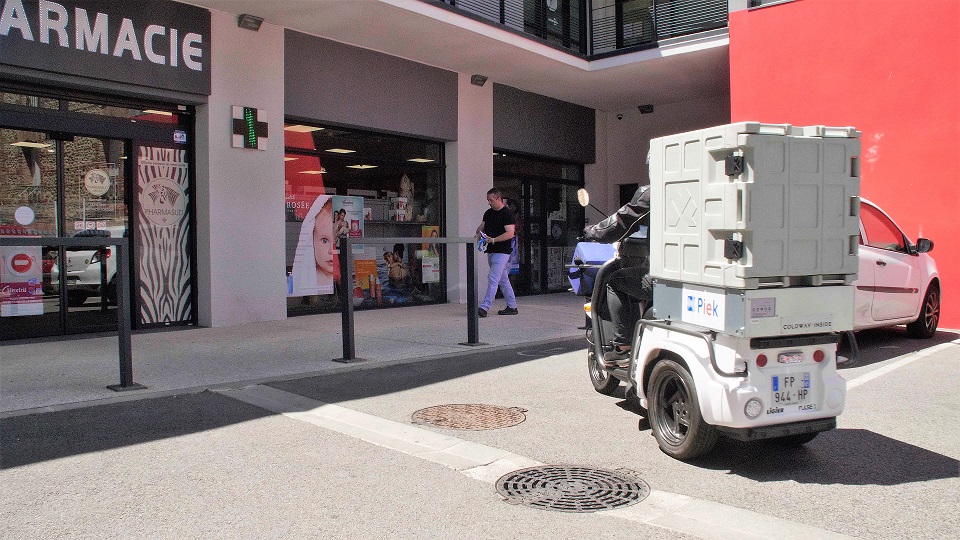 Electric scooter LIGIER equipped with a COOLCASE 140 ME SOFRIGAM
Examine this alternative cold chain technology for refrigerated vehicles on our stand PL16.
Don't miss the discussion on Tuesday 8th September from 11.30am to 12.15pm at the Studio TV entitled "Disruptive Innovation - at the heart of the smart and sustainable city!" when Gilles Labranque, Chairman of the Sofrigam Group will take part.
About Produrable

Produrable is the biggest European event for Sustainable Economy Participants and Solutions.
Organised in partnership with the French Ministry of Ecological and Solidarity Transition, Produrable is a two-day event and includes talks and opportunities to network in relation to Sustainable Development, Corporate Social Responsibility (CSR) and Brands (BSR) to shape the future of society.
Hope to see you in Paris on 7 & 8 September 2020 at the Palais des Congrès for a comprehensive and engaging exhibition!